by Tzvi Jacobs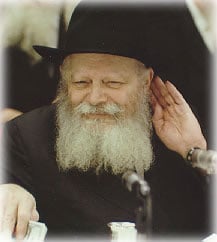 Esther and I were married for 2 1/2 years before we had our first baby. It often happens that couples have to wait a while, and our story would be more dramatic if we were married for 10 years or more without being able to have children. Still, our story is unusual.
We had heard many stories and even had friends who had trouble either conceiving or carrying a baby to term, and after receiving a blessing and sometimes also advice from the Lubavitcher Rebbe, they had at least one baby. With those stories in mind, I went to Crown Heights in September, 1988. It was a pleasant Sunday afternoon and hundreds of people were in a long line waiting to see the Rebbe.
A black limousine pulled up in front of the house, and I overheard that some politicians from New York were arriving. An official escorted them straight in to receive a blessing and seek the Rebbe's advice on an important political issue.
The line didn't move for about 30 minutes. I became unsure if I should ask the Rebbe for a blessing. Should I make the Rebbe, who had been fasting and standing all day and would continue to do so until he met and blessed the final person who got in line, stand and fast for even five seconds longer?
As I looked back at the rapidly growing line, I spotted one of my Yeshiva teachers. "Should I ask the Rebbe for a blessing for a baby?" I asked.
"Sure you should ask," he answered me, erasing all my doubts.
The line started moving. My heart started beating harder. The Rebbe is an awesome figure. He is a man, but people say the Rebbe has the superhuman ability to see into anyone's soul, even someone on the other side of the globe who has never seen or even heard about the Rebbe.
Finally, I made it into the Rebbe's home. The line was moving quickly. It was my turn. "Blessing for baby," I blurted out nervously.
"Amen. In a good and auspicious time," the Rebbe said. He spoke with a clear, strong voice while handing me a second dollar bill.
By December Esther was suspicious. She went to the doctor and the results were positive. We were pregnant. We were ecstatic. But about a week later, the nurse told us the fetal protein level was high and they wanted to do an amniocentesis to find out more and, if need be, G-d forbid, recommend an abortion. But Judaism does not allow for abortions for such reasons. The doctor's staff was pushing for the amniocentesis, but we called back and said, "No thanks."
Only then did I find out that high fetal protein was indicative of Down's syndrome. I didn't tell Esther immediately what I had found out.
The following evening we went to Crown Heights for a friend's wedding and I broke down and told Esther. We were both crying.
The "siren" sounded meaning that the Rebbe was going to say a short public discourse after which the Rebbe gave out dollars for people to give to charity. We got into the line. I couldn't say anything to the Rebbe. I tried to believe that all this was a test from G-d and that it was really a big blessing. I would have to write a letter to the Rebbe. Esther had gone through the women's line and was already waiting for me in the car.
"The Rebbe said, 'Mazal tov' to me," Esther said. "How did he know that I'm pregnant?"
"I thought the Rebbe says 'mazal tov' only after a baby is born," I said.
"I know. I was starting to doubt that I heard him right. And then when I got into the car I saw was the back cover of this magazine."
It was a picture of a pregnant woman headlined, "Saying mazal tov is not enough." The advertisement then explained that a pregnant woman should have the "shir hama'alos" card in the delivery room, as a protection against any harm to the mother or newborn baby. It's a custom from Kabala and strongly encouraged by the Lubavitcher Rebbe.
"Everything is going to be all right, Esti," I said. The Rebbe saying "mazal tov" calmed us down a lot. We just had normal worries and fears throughout the rest of the pregnancy. On Sunday night, May 9, Esther went into labor. At about 20 past midnight we drove to the Morristown hospital and went straight to maternity. At 12:55 a.m. the nurse called out, "Congratulations! It's a girl. A beautiful baby girl."
By the way, you can be sure that when we went into that delivery room, we had our "shir hama'alos--saying `mazal tov' is not enough" cards--one for the mother, one for the baby, and a spare for the expectant father.
Esther was so happy and thankful to be a mother--and to have such a healthy, adorable baby--that she wrote a thank-you note to the Rebbe about four months after Chaya Mushka Bracha was born. While writing the letter, Esther saw a friend walk past. She was still childless. So Esther added a note at the end of her letter: "May the Rebbe please give Leah bas Sara a blessing to have a baby."
Our Sages teach that when you pray for someone else, G-d blesses the one who prayed for his fellow first. Three months later both Esther and her friend were expecting. Our Nechama Dina was born within two weeks of Leah's baby.
I hope that this one little story gives you some insight into who the Rebbe is.